Welcome to the second edition of Corporate Valuation: Theory, Evidence & Practice
We wrote this book to equip our students as well as practitioners—many of whom are our former students—with the current knowledge used to value companies, parts of companies, and the securities issued by companies. Our goal is to provide current conceptual and theoretical valuation frameworks and translate those frameworks into practical approaches for valuing companies. We present the research and descriptive data underpinning these frameworks and use detailed examples to demonstrate how to implement them, often using data from real companies.
"Corporate Valuation: Theory, Evidence & Practice has been the industry
standard on valuation for over two decades, well before it was widely
available. The corporate valuation course based on this book is one of
the few unstated requirements for graduates of The Wharton School that
hope to enter into the field of finance. Having hired dozens of Wharton
alumni who have learned valuation from this book, I cannot imagine a
more thorough guide or a better reference to learn valuation."

                                                                                   Ben Frost
                                                                                   Partner, Managing Director
                                                                                   Goldman Sachs Consumer Retail and Mergers Departments




TARGET AUDIENCE

Corporate Valuation: Theory, Evidence & Practice is intended as a college textbook for both graduate 

and undergraduate courses in valuation. Given the detailed approach, it is also a useful book 

for practicing professionals. We have been using this material in both valuation-based finance and 

accounting M.B.A. classes at Chicago Booth and Wharton, as well as in undergraduate finance 

classes at Wharton, for many years. Although primarily serving as a text in courses that teach valuation, 

the book can also serve as a background book for case-based courses that include cases on 

valuation, leveraged buyouts, and mergers and acquisitions. The book can also be used as a "field 

guide" for those who engage in valuation work. We know that many of our former students refer 

to our writings in their work involving valuation and security analysis for years after they graduate 

from our respective institutions.
INNOVATIVE, DETAILED, AND PRACTICAL PEDAGOGY
In teaching valuation, we found that students generally lacked the detailed knowledge required to value a company. Although other finance textbooks cover these topics, they do so at a fairly low level of detail and generally do not cover the relevant finance and accounting complexities required to perform valuations. As such, students who use these textbooks typically struggle in the workplace because they either lack the requisite knowledge or fail to understand how to integrate the accounting information with the appropriate finance theory. We integrate the relevant accounting topics with the appropriate finance theory, and demonstrate, using step-by-step examples, how to implement the valuation frameworks we discuss. The book is organized so that instructors can choose not to assign certain chapters or sections of chapters and omit some of these details. In addition, we incorporate relevant empirical evidence and theory from prior studies as well as our own work.
Overview of the Structure of the Book
The book consists of six parts. Part I (Chapters 1 through 4) presents an overview of valuation issues and topics, how valuation is used in practice, and the basic tools needed to value a company. These tools include analyzing financial statements, measuring performance, understanding and measuring cash flows, and creating a financial model. Part II (Chapters 5 through 7) discusses the discounted cash flow (DCF) valuation model, including the residual income valuation model.
This part of the book demonstrates the equivalence of the alternative forms of the DCF valuation model and when each of the forms is more appropriate to use. Part III (Chapters 8 through 11) discusses how to measure the equity, unlevered, debt, weighted average, and other costs of capital used in the valuation. Part IV (Chapter 12) discusses how to value and measure the costof capital for warrants, options, and other equity-linked securities. Part V (Chapters 13 and 14) discusses the conceptual framework and practical application of the market multiple valuation method. Finally, Part VI (Chapters 15 through 17) applies and extends these valuation frameworks to specific settings such as highly leveraged transactions, mergers and acquisitions, and cross-border valuations.
Steps in the Valuation Process
In Chapter 1, we provide a top-level overview of the steps in a valuation process used to value a company. These overview steps include analyzing the competitive landscape, analyzing the company and its potential competitive advantage, creating a financial model, measuring the costs of capital, market multiple valuation, and alternative valuation approaches. In the relevant subsequent chapters, we provide detailed steps for each of these overview steps discussed in Chapter 1. For example, in Chapter 4 we provide a detailed step-by-step process for developing a financial model. These step-by-step process guides are included in many subsequent chapters. We show an example of this step-by-step process from Exhibit 15.8 for leveraged buyout transactions.
Real Companies and Detailed Examples Incorporated Throughout
The understanding of valuation and how it plays a role in business decisions is essential to the success of any business and its decision makers. Throughout each chapter, we include real company data and examples to engage students and provide an understanding of how the theory and conceptual frameworks are used in practice. Each chapter contains excerpts and summaries from company financial statements, SEC filings, and new articles illustrating how the topics in the chapter apply to real companies using the Valuation in Practice notes as well as an opening vignette. In addition, each chapter contains one or more detailed examples demonstrating a step-by-step application of the theory and conceptual frameworks discussed in the chapter, which provide an important bridge to help students understand how to apply the concepts. Many of these detailed examples use information from real companies; for example, we use the Xerox Corporation and Affiliated Computer Services, Inc. merger to demonstrate a step-by-step application of the concepts discussed in Chapter 16 on mergers and acquisitions (Exhibit 16.26 is an example of an exhibit detailing a valuation in the context of a real-world acquisition).
Valuation Keys
Each chapter contains numerous boxed summaries of key concepts and tools called Valuation Keys. The Valuation Keys help focus the reader on the key issue or issues in each section of the chapter.
Review Exercises with Solutions Throughout Each Chapter and End-of-Chapter Problems 
Applying theory and conceptual frameworks to realistic data is challenging for most students, and it is especially challenging for students with less business experience or previous exposure to finance, management, and other valuation-related business courses. To reinforce concepts presented in each section of the chapter, we include review exercises that allow students to apply the topic discussed in each section. The solutions to the review exercises appear at the end of each chapter. In addition, each chapter contains additional end-of-chapter exercises and problems instructors can assign separately.
FLEXIBLE STRUCTURE
The curricula, instructor preferences, and course lengths vary across schools. Accordingly, to the extent possible, we designed many of the chapters in Corporate Valuation: Theory, Evidence & Practice so that they can be taught independently of one another. This design provides flexibility and allows instructors to omit certain chapters in a course. Given the nature of the topics covered in the book, however, some of the chapters are interrelated, and certain concepts in a chapter not included in the curriculum would need to be covered by the instructor separately without assigning the entire chapter. We use this approach at Chicago because we have a quarter rather than a semester course schedule. Also, instructors may wish to supplement the course with cases, which might require omitting certain chapters.
Flexibility for Courses of Varying Lengths
Given differing preferences and needs, we provide the following table of possible course designs. In the semester course, faculty members can cover all 17 chapters in the book (Wharton curriculum). In the quarter course, however, covering the entire book is not practicable. For quarter courses, we outline two alternative approaches—one that focuses more on the details underpinning valuation, omitting the transaction and cross-border valuation chapters, and another that covers the valuation topics in less detail and includes the transaction and cross-border valuation chapters (Chicago curriculum).
We also present these two versions of the curriculum for the shorter six-week and five-day courses. The book is also used in Wharton's Executive MBA program in a half-semester format which also includes cases, so the book is flexible in how it can be used.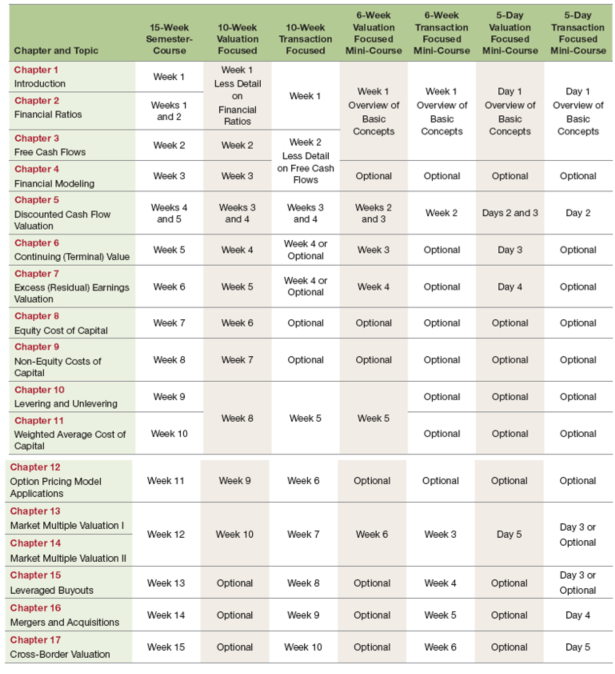 The Tax Cuts and Jobs Act of 2017 (TCJA): We include discussions of the TCJA throughout the book and how it fundamentally affects valuation. For example, we discuss and provide examples of the effect of the TCJA's interest deductibility limitation on interest tax shields, the new rules regarding net operating loss carryforwards, the implications for the levering and unlevering formulas, multinational valuation, and more. Many of the provisions in the TCJA are common in other countries, so these discussions apply to similar provisions in other countries.
Changes in accounting rules: We updated the chapters for various changes in accounting rules that affect how we value firms. For example, we discuss and provide examples for the change in accounting for leases in several chapters where pertinent.
Edited and reorganized certain chapters: We reorganized and edited certain chapters and parts of chapters based on input from teaching assistants and students. For example, we reorganized and edited the comprehensive example in Chapter 5 (discounted cash flow valuation).
We expanded, reorganized, and extensively edited Chapter 12 (equity-linked securities) and included more basic examples. Chapters 13 and 14 (market multiples valuation) have been rewritten with new comprehensive examples.
Additional examples: We added additional examples in various chapters. For example, in Chapter 11, we have a detailed example of how to value a company with net operating loss carryforwards (NOLs) and interest carryforwards.
Additional companies: Throughout the book we updated and added vignettes and valuation in practice examples to provide more bridges from the concepts in the texts to applications for actual companies.
Additional problems: We added additional problems in certain chapters.
For Instructors
Solutions Manual Created by the authors and contains solutions to each of the problems at the end of the chapters.
PowerPoint Presentations Created and classroom tested by the authors, the PowerPoint slides outline key elements of each chapter and provide additional examples not used in the textbook. Because most of the examples in the PowerPoint presentations are different from those used in the book, instructors are not just repeating what is in the book. Spreadsheets We provide author-created Excel spreadsheets for the underlying examples in the PowerPoint presentations. This allows instructors to see exactly how the spreadsheets are created and would also allow instructors to create other examples if they so desired.
For Students
Example, Review Exercise, and Problem Data We provide Excel spreadsheets of "hard-coded" data for chapter examples, review exercises, and end-of-chapter problems. We also provide hard-coded solutions to the chapter examples and review exercises. These hard-coded solutions provide students with the template used as well as the data for the problems, and make it easier to solve the problems, as students do not have to input the raw data into an Excel file.
In some cases, the exhibits in the book have small rounding errors because we do not show enough significant digits in order to avoid the clutter of multiple significant digits. When that occurs, the following phrase appears at the bottom of the exhibit: "Exhibit may contain small rounding errors." The Excel spreadsheets provide more significant digits for students who want to refer to them.
Option Pricing Spreadsheet Chapter 12 includes applications of option pricing theory to plain vanilla options, warrants, employee stock options, convertible debt, and financial distress prediction. We provide an Excel file that aids with these applications.
Instructors

You must have an instructor account and submit a request to access instructor materials for this book.